Reframe2: Presenters
Gary Beacom
Gary Beacom is the quintessential independent when it comes to figure skating. He will speak about the tribulations he endured by adopting a signature style and unique training techniques and by favouring adherence to scientific and ethical principles in a sport of pageantry, hypocrisy, and politics. He will show that justice has ultimately been served by his being true to his artistic and rational self instead of succumbing to the pressure of conformity. He will highlight the international success he has enjoyed in his lengthy professional career by showing footage of some of his performances. Gary Beacom's Website
Evan Bluetech
Evan Bluetech--composer, producer, record label owner, graphic designer, and software teacher--is a renaissance man of the digital era. His album Prima Materia on Wavefrom records and his ep Elementary Particles are fast becoming ambient dub classics, liquefying limbs on global dancefloors and setting a new standard in digital music production. The quintessential and inspirational bedroom producer who spun his classical music background and digital know-how into audio gold, Bluetech has now focused his attention to promoting the west coast electronic sound with his label Native State Records. As both dj and audio alchemist, he spends a good part of his year traveling the international music festival circuit and shares his music software expertise by giving workshops in digital audio arts. www.bluetechonline.com www.nativestaterecords.com
Andrew Collins
Andrew Ross Collins is the founder of Interchill Records/ Mariko Publishing. Andrew came to Canada in 1991 to study philosophy at McGill in Montreal, fresh from a London scene still resonating from the 88/89 summers of love. In 1992, he co-created a production company that produced the first raves in Montreal, also starting to dj under the name Interchill. As the Canadian scene grew in size, dj gigs took Andrew to Vancouver, Toronto, Ottawa and Quebec where he met contemporary Canadian music producers. The idea to create a record company--Interchill Records--that would showcase downtempo Canadian music was born out of a frustration at "import only" music stores and a conviction that the long cold Canadian winter is an ideal breeding ground for creative studio time.
The first Interchill Records compilation--Northern Circuits--was released in 1996 and received solid praise overseas, particularly from Bjork who played it on the radio. 18 cd releases later, and based on Salt Spring Island, Interchill Records is a part of Mariko Music Publishing Ltd, a boutique film and tv music licensing company which Andrew runs with his wife Ceridwen and long time Interchill A&R, dj, and graphic designer Gordon Field. DJ gigs continue to provide good opportunities worldwide, but with the responsibilities of family life and running the businesses, the focus is on quality not quantity.  Following on from very positive recent sales for Interchill releases on iTunes, Andrew has started working as an A&R consultant for IODA - the Independent Online Distribution Alliance, based in San Francisco.
Andrew will explore the idea that We are the media from the perspective of record label owner and music publisher. The talk will cover the basic practicalities of running a record label and music publishing house, and expand to observations on DIY culture, indie values, artist relations, and what is involved in building label identity. Given the scope of the topics, discussion and questions will be welcome.
Margaret "Margo" Collins
Margaret "Margo" Collins is a freelance researcher, writer, and trained librarian (www.informationdistillery.com) who specializes in finding, compiling, organizing, analyzing, and communicating information. She has been an internet professional since 1995 and has worked on projects for the Library of Congress, the National Library of Canada, Chapters Online, Canwest Interactive, and the CBC. Her online alter-ego is "The Practical Hippy" which is something like a combination of Michael Moore and Martha Stewart, except slanted towards positivity and building a sustainable future.
In her presentation, Margo will discuss how to communicate information effectively online and practical strategies for increasing website traffic in the context of a changing media landscape.
Laura Cranmer
Laura Cranmer is a Namgis First Nation scholar and playwright who works in the First Nations Studies Department of Malaspina University-College. She holds a BA (1997) in English and an MA (2003) in Curriculum Studies, both from the University of Victoria. She is also Artistic Director for the Limpfish Collective. Her play DP's Colonial Cabaret originated as part of her Masters' thesis. As a playwright, Laura has twice been accepted to the Booming Ground Writer's Community Workshop at the University of British Columbia, where she worked with playwrights Tomson Highway and Judith Thompson. She has also worked on the development of DP's Colonial Cabaret with playwright, director, and dramaturg Frank Moher at Malaspina. Laura has begun work on a new play exploring the role played by the Indian hospital in Canadian colonial history.
Laura will base her presentation on DP's Colonial Cabaret, the result of four years of autobiographical research on the process of decolonization. "My intention was to create a frame large enough to contain the unseen forces and influences that shaped my identity as a colonized Namgis woman. The frame is the script and the unseen forces are now characters. These characters are Aunt Anomie, despair personified; Uncle Crutch, the Indian Agent who represents learned helplessness; Drunken Scramble Plot, or DP, who is lost in place on the reserve Terra Nullius; Fly, his best buddy; and Mother Bond, newly returned home to work at the treatment center. Het and Gloss act as chorus to provide a running commentary and sing the songs for each of the scenes. The play is a dialogue with the past--with its Eurocentric world view--as well as a dialogue between the forces of positive change within Aboriginal communities today, and the forces for the status quo of collective denial of substance abuse.
Lauren Dobell
The Gathering: In conjunction with the ReFrame2 conference, an alternative media community-building "Gathering Around the Dinner Table" will be held on the Friday evening, May 13th.
Stephen Dunifer: Seizing the Airwaves - Reclaiming the Commons
Free Radio Berkeley founder Stephen Dunifer will speak on the necessity of creating a Free Radio alliance throughout the Americas--a collective expression of solidarity reaching from the Artic Circle to Tiera Del Fuego.
At some point, a decision has to be made as to which is more important: free speech or governmental regulations and laws. Micropower broadcasting is the use of low power FM broadcast transmitters covering a radius up to 12-15 miles with a power of 40-100 watts. It is the nexus point of an ongoing movement of electronic civil disobedience and direct action to reclaim the airwaves and wrest them from the grip of corporate broadcast media monopolies. If sufficiently large numbers of people decide that the airwaves belong to the people and use micropower broadcasting to assert that right, the governments of the Americas and their respective communications agencies will be hard-pressed to effectively prevent them from doing so-- especially if the micropower broadcast stations are defended and supported in a creative and militant manner.
If free speech is to survive as a fundamental and inalienable right of all people, one cannot remain a passive consumer of media. One must become an active co-creator and participant in the struggle to break the stranglehold of corporate media monopolies on the free flow of news, information, cultural expression, and artistic creativity. If you cannot communicate, you cannot organize. If you cannot organize, you cannot fight back. If you cannot fight back, you have no hope of winning.
Stephen Dunifer is a long-time activist and founder of Free Radio Berkeley. He is currently engaged in the design, development, and promotion of free radio stations on an international basis. He is co-editor with Ron Sakolsky of Seizing The Airwaves (a book about the free radio movement in the USA) and his latest guerilla technology initiative involves "free television."
Eliza Gardiner + Mind's Eye
The Mind's Eye Youth Newspaper has been published by Nanaimo Youth Services Association since 1998. It welcomes contributions from youth writers each month, acting as a venue for their voices, creativity, and spirit in the Nanaimo Region. The Mind's Eye includes opinion columns, interviews, entertainment features, reviews, creative writing, poetry, and original artwork in its 20-page tabloid format. The paper is printed and circulated on the first Friday of each month by The Nanaimo Daily News. Youth volunteer staff assist with design and layout, take part in assignment meetings and writing workshops, and submit their work in order to spread their news in the region and to build their portfolios as emerging writers and artists. Managing Editor Eliza Gardiner will be joined by youth writers for this presentation on The Mind's Eye and how it serves as an alternative media outlet in Nanaimo.
Mike King - Part of AIRCHECK: A Public Radio Panel Presentation
Mike King was born and raised in Vancouver in a fury of sound checks and recording studio sessions. The resulting passion for the arts would eventually meet head on with an increasing understanding of the workings of our world and its cultural problems. Mike has a fervent belief in the inherent value of communications media that can disseminate information without the corporate processing due to advertising, lobbying, and government complicity. After moving to Nanaimo in 2003, Mike joined CHLY Radio Malaspina, the primary source for alternative/experimental music, under-reported news, and diverse opinions for central and northern Vancouver Island, the Gulf Islands and the Sunshine Coast. Starting as a programmer, Mike accepted the position of Executive Director at the station in October 2004 with a belief that as the theories of the market and globalization face potential failure, the West Coast community will need a strong hub with which to communicate ideas and coordinate actions. Mike also represents international artists as an agent and administrator.
Sijay James- Direct Mediums of Transference: The Future of New Media Culture
Sijay is a metamedia developer and new systems consultant from the Elphinstone Rainforest of westcoast Canada. He has a degree in English Literature with a focus on linguistics, cultural theory, and metaphysical paradigms. He is also a dj, music producer, and freelance writer. He balances his wired side with an active yoga practice, snowboarding, unhinged dancing, and hiking in the rainforest in his backyard. Currently, Sijay runs Onbeyond Metamedia, a holistic design company providing promotion and design support for a wide range of intentional community projects. He travels globally promoting sentient communications , organik technology, and future culture.
Independent media production is more possible now than ever with widespread access available to millions of people globally. What are the implications and applications of this sort of culture on a personal, local, and world level? How can independent media design and production help to elicit large-scale evolutionary cultural change? From propaganda to webcoding, techniques will be suggested for re:tooling our systems to reflect a changing perception of relevance and value in the world. New media ecologies, open source learning, post-advertising empire art, underground press, permaculture design, internet, and peer-to-peer networks represent future trajectories of current trends and anticipated outcomes. These subjects will be examined in the context of work Sijay has done over an 8-year career as a media designer and new systems consultant. There will be a specific focus on DYI design.
Ron Lazlock
Ron has been in corporate television for many years...and abandoned that in search of his roots....producing and directing television programs where he has more control....projects that interested him....not the wishes of the network. His presentation will focus on the production of documentaries for television and the trials and tribulations--and the many laughs and "toasts"--of trying to get a project from conception to air.
Gary Moore - Inside the Music
Gary Moore has worked in the media business for 15 years, beginning his career as a freelance photographer for The Banff Crag and Canyon before heading to the Okanagan as a news photographer for The Kelowna Daily Courier. Gary has won numerous honours including national and provincial awards for general and spot news categories. Gary's photographs have been published in magazines and newspapers around the world. His work can be seen on www.realworldphotographs.com.
Besides being a photographer, Gary is now a producer and has worked on dozens of documentaries which have taken him around the world to places including Palestine, Colombia, Haiti and El Salvador. He is currently a director with digital village, a new production company based out of Nanaimo, and working on a series of music documentaries for Classic Rock UK.
Scott Nelson
Scott Nelson has been involved with Indymedia since it's inception in the fall of 1999. He helped co-found Calgary, Vancouver, Victoria, Alberta and the new BC Indymedia. His work includes audio and video capture, editing and webcasting, as well as maintainance of Linux servers in Indymedia's global computer network. Prior to his work with Indymedia, he started one of Canada's first web development firms and worked for the international public relations firm of Hill & Knowlton. In addition to Indymedia, he has done volunteer and paid work for a number of non-profits including Greenpeace, Society Promoting Environmental Conservation, Better Environmentally Sound Transportation, the Western Canada Wilderness Committee, the Vancouver Community Net, and numerous others.
Sheila Nopper - Part of AIRCHECK: A Public Radio Panel Presentation
Sheila Nopper is an activist and freelance writer who was a broadcaster for seven years on Toronto's campus/community station CIUT FM. She has been involved in pirate/free radio stations in both the United States and Canada. She has also produced reports for CBC Radio's "Global Village" and, while living in Illinois, worked with girls aged 8-14 to produce live and recorded segments for "Grrrl Radio," a biweekly program on the educational station WQNA FM.
Dave O'Rama - Part of AIRCHECK: A Public Radio Panel Presentation
Dave O is a devoted community radio advocate who currently hosts and produces the program "The Lovecast" on CHLY FM in Nanaimo British Colombia. He studied broadcasting in his home town of Toronto, and then went on to work as a producer in the mid-eighties with commercial radio station CFNY FM. He then decided that the creative freedom of community radio was more to his liking and went on to commit the next seven years working intensely with fledgling community/campus radio station CIUT FM. O'Rama moved west in the early nineties and has been active both on and off the air with CHLY FM since 2001. He is a fourth year Mal-U Media Studies student and is currently the Program Director for the Worldbridger Film Series. He is a self-described music and film addict.
Noah Pred - Techno Redefined: Expanding Parameters of the Electronic Artist
Hailing from Canada's Sunshine Coast, Noah Pred emerged from Vancouver's underground as a sought-after techno dj with a sophisticated sound and unique style. Producing dance music and performing live for over seven years, he recently completed a three-year residency in Montreal. Devoted to authentic and soulful strains of techno in all its permutations, Noah's sound continues to evolve while remaining firmly driven by the dancefloor.
Since his first records came out in the late nineties, his productions have received international support, appearing on charts from renowned talent such as Carl Cox, Cari Lekebusch, and Laurent Garnier. His subsequent 12-inch EPs and remixes have continued to garner critical acclaim while moving dancefloors across the globe, appearing on playlists from Tokyo to Glasgow.
As a dj and live act, Noah has performed throughout Europe and North America, while holding residencies at clubs in Montreal such as Stereobar and Circus Afterhours. After working as assistant A&R for Consigned Recordings, Noah applied his label skills by spearheading the Pacific Technics Project, a triple-vinyl pro-peace compilation benefitting Amnesty International. The Pacific Technics CD, selected and mixed by Noah, was released in June 2004. Noah currently runs two record labels--Metapath Recordings and Sentient Sound--with the first 12-inch releases dropping this winter.(//noahpred.com/; Metapath Records; Sentient Sound)
Beginning with an examination of his experience as a freelance techno dj, producer, remixer, and label manager, Noah Pred's presentation will explore the future of the techno artist in our media culture. Interpreting the history of the techno artist's role as independent media icon, maverick and mogul, Noah aims to re-cast the possibilities of technological expression in a global media context, broadening the concept of what it means to be a "technology artist." From the individual consequences of a dedicated independent media-production lifestyle to the planetary communication potentials of non-verbal electronic music, Noah will attempt to reframe technological creativity in radical and evolutionary terms.
Ron Sakolsky - Part of AIRCHECK: A Public Radio Panel Presentation
Ron Sakolsky is a radio activist, and has been an on-air radio programmer for university, community, and free radio stations. He is the co-editor, with Stephen Dunifer, of the anthology Seizing The Airwaves (AK Press, 1998), a book about the pirate radio movement in the USA. He is the editor of several anthologies, including Sounding Off: Music as Subversion/Resistance/Revolution (Autonomedia, 1995), and Surrealist Subversions: Rants, Writings and Images by the Surrealist Movement in the United States (Autonomedia, 2002).
Tom Shandel
I am distinctly a "literary" filmmaker, and in my world, born of the NFB and CBC of the 60s and 70s, the documentary form is a literary form--if you can't read, chances are my movies will not be appealing. Tom Shandel's Website
Given that, it is astonishing how well I've adapted to the digital reality. Maybe not so surprising, since the digital system is exactly like film with individual frames of reality, 30 frames a second rather than 24. The biological phenomenon of persistance of vision still applies. Narrative progression still rules.
Digital video tape, Final Cut Pro, Photoshop, AfterEffects--among the myriad of other mysteries like Google and Timbuktu--have brought the costs of production down so far that we can afford to get into content that has meaning to ourselves. Filmmakers can now make that choice. Broadcasters, ever hungry for anything to separate the commercials as usual, offered material at low cost, will certainly be open to offers. More or less.
Typical of my generation, I couldn't do it without help and the patience of my editor, shooter, and maestro of the digital video universe. In exchange for my narrative sense and industry experience and connections, John Warnock brings my ambitions to fruition. We are a team once the idea is launched and funded. We'll illustrate from our recent productions with subjects as diverse as art, history, and partisan political agitprop.
Naava Smolash - Grassroots media activism
Naava Smolash (BA Trent, MA Guelph) teaches Mass Media and Popular Culture at Malaspina University-College and the Victoria Free School, and will begin a PhD at Simon Fraser University in September. Her research focuses on the racialization of "enemies within" the nation in Canada's national newspapers, as well as on Freirian pedagogy and grassroots media as powerful sources of agency. She is also currently involved in the campaign to end secret trials in Canada, with VIPIRG's No One Is Illegal Victoria campaign.
This workshop will provide an opportunity for conference participants to explore where grassroots media meets academic and community activism. How can media theories and technologies inform community work for a more just world?
Grassroots media activism--including electronic media such as digital video, websites, blogs, and listserves; hard copy media such as zines, posters, or stickers; 'live' media such as street theatre; as well as hybridized mixes of all of the above--provides one such location, because it is often informed by media theory and circulated for a popular audience. The workshop will take the form of a series of short screenings and an exploration of examples of many types of grassroots media, from homemade zines to digital guerilla video, opening up a world of possibilities for the media artist interested in social justice issues.
Lynn Thompson - Moderator for AIRCHECK: A Public Radio Panel Presentation
Lynn Thompson thrives on public speaking opportunities. She has nurtured her enthusiastic skills through many years of photographic presentations, two years with Toastmasters, and numerous appearances at the Errington Coffeehouse near Parksville (song, spoken word, and frequent m.c.). Since August 2004, Lynn is the inspiring host of the weekly program "Living on Purpose", on CHLY 101.7 FM., Radio Malaspina, in Nanaimo. The theme of the show is "A thoughtful, nourishing blend of ideas, information and conversation offered in a spirit of health and well-being." Well-known for her fresh approach to nature and portrait photography, Lynn is now enhancing her perspective for her listeners and viewers by exploring the audio world at CHLY. Lynn joyfully welcomes new occasions to explore further growth and sharing.
Velcrow Ripper - Cinema and the Sacred in Action
Velcrow Ripper is a dedicated social activist and creative artist. He moves easily from documentary to narrative drama, to multimedia, to projects he calls "absurd". Before ScaredSacred, Velcrow was best known for the feature documentary Bones of the Forest which he co-directed with Heather Frise and which won the Genie Award for Canada's top documentary in 1996. He is a "hands on" video/filmmaker and multimedia and performance artist who writes, directs, produces, photographs, edits, and designs soundscapes.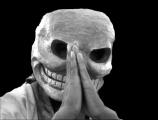 He has directed over thirty films and videos, both fiction and issue oriented documentary. Among his films are In The Company of Fear (Vision T.V.), the Golden Gate Award-winning Open Season (co-directed with Heather Frise, CBC), the multi-award winning non-fiction feature Bones of the Forest (co-directed with Heather Frise; TVO; winner of over seven awards, including Best of the Festival and Best Over-all Sound at Hot Docs!), the animated short Leave Me Alone Don't Ever!, and I'm Happy, a feature fiction. In addition to sound designing his own films, he has designed the sound for such documentaries as A Place Called Chiapas, CultureJam, and The Corporation. Velcrow Ripper lives in Vancouver, where he co-produced ScaredSacred with the NFB and Producers on Davie.
Cinema and the Sacred in Action: Drawing on his experiences while shooting the feature documentary ScaredSacred, award winning director Velcrow Ripper will explore the relationship between moving pictures, sound, the Sacred, and the path of action. The workshop will delve into such issues as the sacred trust between the interviewer and the subject; experimental practices in documentary, and sound design, as well as the relationship between spirituality and activism. It will explore ways in which art can "make the invisible visible," and act as a tool of transformation.
Ken Zakreski - Part of AIRCHECK: A Public Radio Panel Presentation
Ken Zakreski is proprietor of Permanent Press Publishing and previously published PIER, an Independent News and Entertainment Magazine. He has served as president and business manager of the Navigator Newspaper Society at Malaspina University-College. Ken was the developer for Radio Malaspina Society - CHLY and is now developing a proposal for CIUF-FM - Gabriola Co-op Radio. He has presented at the National Campus/Community Radio Conference, and co-hosted the British Columbia Radio Conference in 2003. Currently, Ken is a member of the NCRA/ANREC working group establishing a journal on Canadian independent media, campus-based, native and community radio. Ken will be presenting on the proposed NCRA peer-reviewed academic journal The Canadian Journal of Community Communications (beta version at - http://nccra.learnnewmedia.ca/ more info at http://staticreporting.blogspot.com/) and a funding mechanism for proposed CIUF-FM.